Pumpkin trees
Definitely not my usual subject matter, and not anyone else's as far as I can research, but my first view of a 'pumpkin tree' immediately appealed to my DIY nature. If there are such things as DIY or gardening 'headturners', this is most definitely one, and although you may have surmised by now, with a little disappointment I imagine, that you were correct in your assumption that pumpkins don't grow on trees in the true horticultural sense, they can certainly be made to look like they do.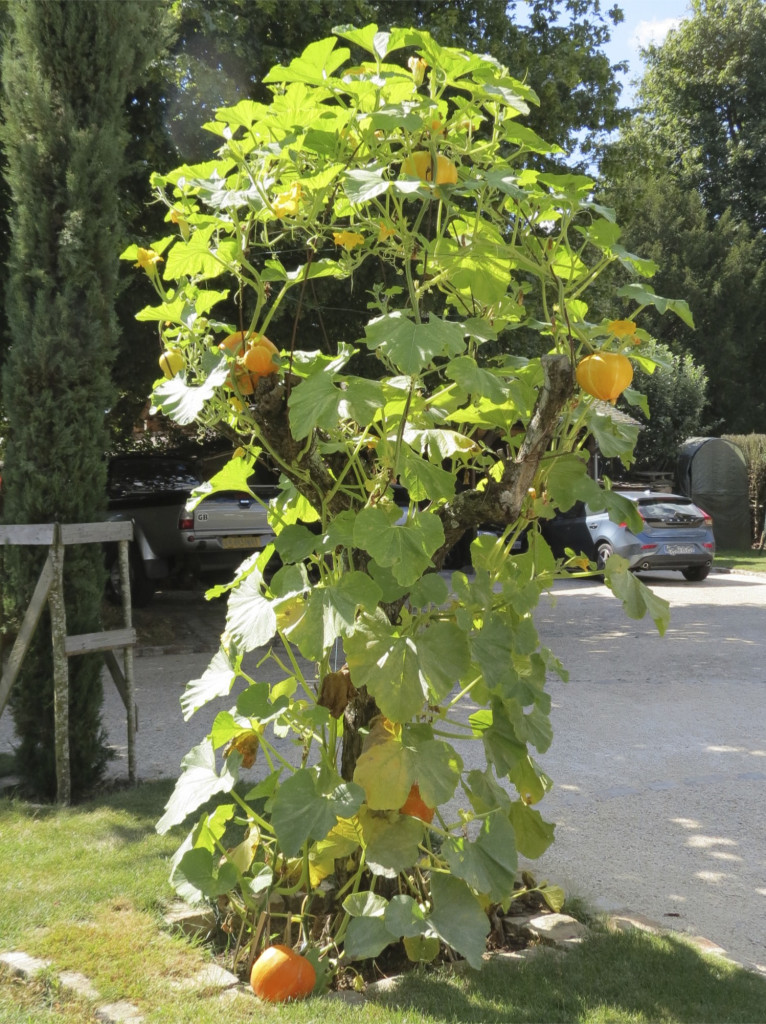 The story behind this piece of art begins with an olive tree. In the last few years olive trees have crept into gardens across Northern Europe, as it became clear that they 'could' survive away from their established roots in the more southern European climate. However, the relocation of an old olive tree is not always successful. If the worst does happen, you can either dig out the dead tree, dripping tears down your spade handle as you mourn the loss of both such a beautiful plant, along with the fortune it cost, or…… you can improvise.
Therefore why not use the framework offered by the tree as part of the support for growing pumpkins! Think of the space you save in the garden, by being able to grow several pumpkins in an area of land that would usually only be able to yield one or two!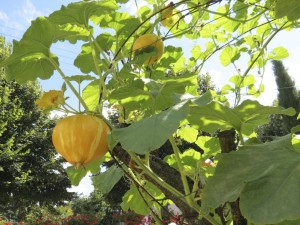 The real DIY aspect of the 'pumpkin tree' is in making the additional support to create the rounded shape of the crown. Basically, lengths of rebar (steel rods usually associated with reinforcing concrete!) are bent to  curve over from branches on either side of the tree, creating a super strong rounded frame. The rebar is held in place by simply binding it onto the olive tree branches using some wire. After that, with a bit of training of shoots, you let nature take its course and up she goes.
One final point about the variety of 'pumpkins' being grown here is that they are actually petit marrons, a type of squash, commonly grown in France, and indeed where this tree was created. If I hadn't seen this with my own eyes, I wouldn't have believed that such large examples could be grown without dropping before maturity, but the plant strength is clear, and to grow larger ones there's nothing to stop you supporting the weight of the pumpkin on a branch, or suspending it in a netting bag from a section of rebar (although this does rather ruin the effect).
So if you've got a dead olive tree, and want to add a bit of fantasy to your garden, why not give a pumpkin tree a go. Just watch out for falling pumpkins come harvesting time!