10 Exterior home maintenance tips
A good home maintenance schedule is essential for all of us, and exterior maintenance is of paramount importance as failure to look after things outside, may even cause structural damage. Even the jobs that don't have structural significance are still vital, because if you let your outdoor features and surfaces deteriorate, it generally ends up costing you money to restore them, further down the line. The list of tips below is by no means comprehensive, but raises some of the more common issues to look out for relating to exterior home maintenance.
1. Roofs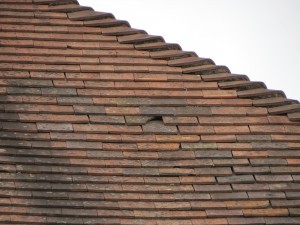 Starting at the top, you've always got to keep an eye on your roof. The obvious things to look out for are broken or missing tiles, but also look out for ridge tiles that may need re-laying, flashings that have slipped out of place, and any issues with chimneys that look like they're leaning, or may simply need re-pointing. You don't have to climb up there to check for most things, as a pair of binoculars or a decent camera with zoom, allows you to get a pretty good look at what's going on. If you do need roof repairs, unless the access is easy, you should really be looking at fixed scaffolding and/or get the professionals in.
2. Air bricks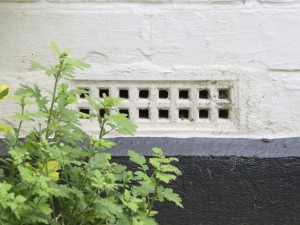 Make sure that these vital channels for ventilation are not blocked by plants, flower pots or any other object. Air bricks basically allow for the passage of fresh air into the void below floors, in some house designs. If you block them up, you could cause all sorts of damp issues, so from time to time, especially in summer months, make sure nothing is growing over any of your air bricks. Some air bricks may be above floor level, and these will normally relate to ventilation requirements for fuel burning appliances in your home. These also, must be kept clear, and failure to do so could pose potentially fatal health risks for you and your family.
3. Painted woodwork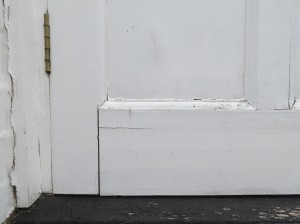 Any painted exterior wood will last between three and five years before it needs re-painting. If your home is in a particularly exposed position, by the sea for example, three years will generally be the maximum. If you let it go 'too far', the damp starts getting into joints, the timber swells, and problems begin! Once a door or window starts to rot, small areas can be cut out and repaired, but there does come a time when replacement becomes the only option. So, if you start seeing flaking paint, little cracks opening up, or any bare wood, it's time for re-painting. For more information, see my guide – 'Painting exterior woodwork'.
4. Painted walls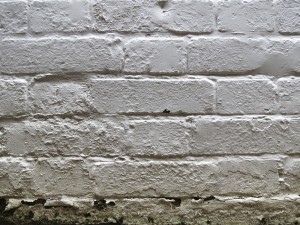 Painted walls last much longer than painted wood outside – around ten years if the correct system has been applied. Much like wood though, once it starts flaking, and the damp gets in under the surface, it's not long before bare patches appear, and you really need to think about re-painting. You can extend the life of wall coatings if you don't allow plants or trees to grow too close to the wall surfaces, but most importantly, make sure you apply paint correctly in the first place. For more information on painting, and particularly my views on using fungicide, see my guides 'Top 10 tips for exterior decorating' and 'Painting exterior walls'.
5. Drives, paving and paths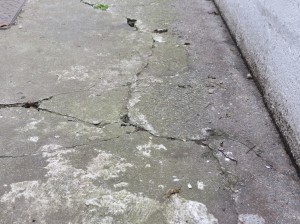 Hard landscaped areas such as paths and drives will gradually deteriorate over time. Cracks and holes like those shown here, can be patched up with some mortar, but realistically, you will need to be looking at a longer term solution, which will likely involve digging up what's there, relaying the concrete 'slab' or choosing another hard landscaping option. There are plenty of options for walkways and drives. Laying gravel tends to be the most cost-effective option, but you may also want to consider pavers, or slabs. Find more information in my guides about 'Paths, paving and patios'.
6. Fences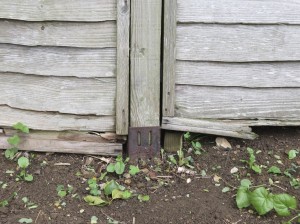 Fences require a coat of wood preserver from time to time, or they will soon deteriorate. There are now plenty of DIY tools around to make re-treating a fence a fairly quick, yet still effective, job. For further information, take a look at my guide – 'Maintaining a fence'. In the example shown here, not using gravel boards at the base of fence panels, means that rot has got into the fence panels themselves, meaning total panel replacement is necessary, rather than just replacing the gravel boards. Always use gravel boards! They really are cheap and simple to fit. For more on this, see my guide –'Erecting a fence on soft ground'.
7. Guttering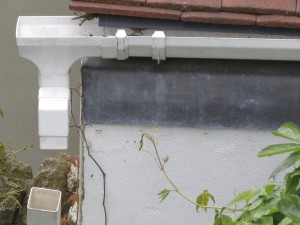 If guttering is blocked, damaged, broken or even disconnected, as shown here, you are almost certain to get damp problems of some nature. It is so essential to keep guttering channels clear and in good repair. The alternative is to have large quantities of water directed, or concentrated on areas of wall. Not surprisingly, you may eventually get some egress of water from outside to inside, or simply damage that wall area, whether that means 'lifting' coats of paint, or actually eroding the building 'fabric' whether it be wood, or masonry. So, quite simply, keep gutters and downpipes clear, and in good repair.
8. Hoppers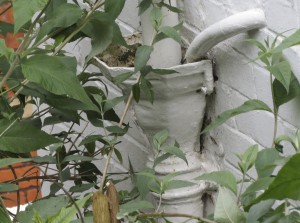 This is another point relating to guttering. Hoppers are the funnel shaped structures where pipes containing rainwater, and sometimes waste water are directed, before descending through a downpipe into the drainage system. They can be blocked by foliage dropping from close by trees and bushes. Again, make sure these areas are kept as clear as possible, as blockages tend to cause water to be directed towards, and literally pour down, the adjacent wall. You can help stop leaves, and debris getting down into the hopper by using a leaf guard, and positioning it at the point where the hopper drains into the downpipe.
9. Gullies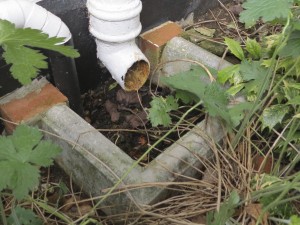 Where waste water, and/or rainwater goes into gullies and down into the drainage system is an area that must be kept clear. Situations like the one shown, where close by foliage shedding leaves into the gully is just not ideal, so regular clearing is essential. One option is to make a cover for the gully, so that debris can't fall into it- you can simply use a piece of marine ply with a section cut out, to go around the downpipe. You will also be able to find custom made covers in most DIY outlets. Whichever option you go for, keep a lookout for any leaf and debris build up – it's much easier to clear them now, before they find their way down into the drainage system.
10. Decking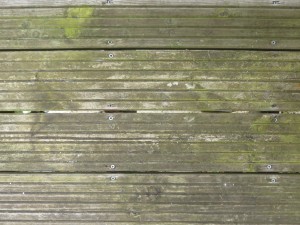 Decking is generally treated with wood preserver when supplied, but that preserver has a 'life', so re-treating every few years is important. However, in terms of more frequent maintenance, you really should pressure-wash down the deck at least once a year, to remove any dirt or algae that can easy start to accumulate on the decking surface. If you don't have a pressure washer, a stiff brush and a bucket of water is generally all that is required, or if you prefer, you can also buy 'deck cleaner' in most DIY outlets. For more information, see my guide 'Maintaining decking'.
The above, are 10 good examples of exterior maintenance jobs that you may need to attend to around your home – however there are likely to be plenty more, once you start looking in detail at the outside of your home. Most of the jobs are quick and easy, but some will certainly need a bit more time, and expense. However, bear in mind that if you don't spend the necessary money on a problem now, in many cases, it will lead to the need to spend much more money on that problem in the future. Equally, none of us can afford to do everything at once, so try to prioritise. And finally, effective exterior home maintenance really is a case of doing a little, but often, as trying to do 'everything' at once can often be overwhelming.